Herschel Data Processing Workshop for Newcomers, 24-27 June 2013
TABLE OF CONTENTS
Participants
Venue
The workshop will be held at the
European Space Astronomy Centre (ESAC)
(Rooms B3/B5) situated near Villanueva de la Cañada, about 30kms North-West of Madrid.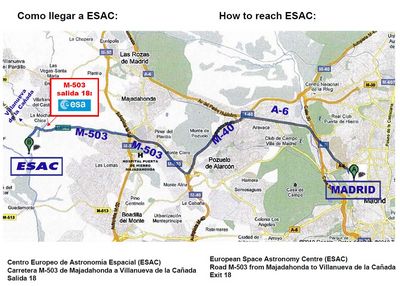 Maps and driving directions to ESAC from Madrid airport (Barajas) and Madrid city centre can be found
here
.
Transportation & Accommodation
A shuttle mini-bus will depart
from the entrance gate of Hotel NH Alberto Aguilera at 08:15h sharp every morning
to bring the workshop participants from Madrid to ESAC. The same shuttle service will also take the participants from ESAC to the hotel in Madrid at the end of the afternoon sessions from Monday to Wednesday. On Thursday afternoon taxis will be arranged to go from ESAC to the airport (no mini-bus service will be available). Participants need to make their own reservations directly with the hotel. Below is a list of recommended hotels in Madrid.

   Hotel NH Alberto Aguilera ***
   Calle Alberto Aguilera, 18
   28015 Madrid
   Tel: +34 91 4460900 
   Fax: +34 91 4460904 
   E-mail:  nhalbertoaguilera@nh-hotels.com

Useful Links
Download the latest HIPE User Release Candidate (HIPE 11.0.0 RC2)
What is HIPE?
HIPE stands for 'Herschel Interactive Processing Environment'. This is the software for browsing, analyzing and reprocessing Herschel data.
Which version of HIPE do I need?
The latest version of HIPE 11 (Release Candidate #2) will be the version of HIPE that will be used during the workshop. This version of HIPE (11.0.0 RC2) can be downloaded from the links below. Please install HIPE on your personal laptop (minimum requirements: RAM 4GB) in advance to the start of the workshop following the installation instructions given below for the different operating systems. Report any problems during the installation process through the
HSC Helpdesk
. Important note: You have to keep your internet connection on during the process as you download all the necessary components during the installation. Note that this is an advanced version of HIPE 11 which is still undergoing the final acceptance tests before it becomes an official user release, something that we anticipate will happen in July.
Release candidates (RCs) are made available for internal use only. Do not distribute this software!.
The available installers for Windows and Linux come with a 32 or a 64 bit virtual machine (VM). The available installer for Mac OS X does not come with a virtual machine but will use the one available at your system.
Download HIPE 11.0.0 RC2
HIPE Installation Instructions
Windows Instructions:

After downloading, double-click HIPE_11_0_0_RC2_INSTALLER.exe
Linux Instructions:

To download the linux installer you should do a right click and then "save link as"
After downloading open a terminal and, cd to the directory where you downloaded the installer.
At the prompt type: sh ./HIPE_11_0_0_RC2_INSTALLER.bin
Mac OS X Instructions:

After downloading, double-click HIPE_11_0_0_RC2_INSTALLER
In the eventual case of problems with these GUI-based installers, you can always use the command line installer following the instructions below:
3.- and from the command line type >./hcss.installer hcss 11.0 2825, this installs the exact same software as the graphical installer.
4.- Once it is installed, you can run the application by calling hcss-11.0.2825/bin/hipe
Calibration contexts applicable for HIPE v11
In order to process data with HIPE v11 you may also need to download the corresponding calibration tree.
HIPE Users' Documentation
Please have a look at the on-line HIPE 11 documentation clicking on the link below.
Draft Agenda
Herschel Data Processing Workshop for Newcomers, 24-27 June 2013
Draft Agenda
Monday 24 June 2013
GENERAL ISSUES
(@ Room B3)
09:15-09:30:
Welcome, local set-up and start of webex session
09:30-09:45:
Welcome to Herschel Data Processing
S.Ott
09:45-10:00:
Welcome to the Herschel Science Archive
P.García-Lario
10:00-10:30:
An introduction to the HSA User Interface
E.Verdugo
10:30-11:00:
An introduction to HIPE
B.Merín
11:00-11:30:
Coffee break
11:30-11:45:
Q&A on HSA/HIPE general issues
11:45-12:15:
Data Handling in HIPE
E.Verdugo
12:15-13:00:
Quick inspection of Herschel data products
B.Merín
13:00-13:30:
Q&A on HSA/HIPE data handling and quick inspection of products
| | |
| --- | --- |
| 14:30-16:00 | Hands-on session - Part I (HSA/data access/data handling) |
| 16:00-16:30 | Coffee break |
| 16:30-18:00 | Hands-on session - Part II (HIPE general issues/quick inspection of products) |
Tuesday 25 June 2013
PACS
(@ Room B3) Spectrometer Session I: Overview of PACS Spectroscopy data and their outlook in HIPE
Spectrometer Session II: Processing data for scientific use
10:30
Calibration and data processing pipeline overview
R. Vavrek
11:00 - 11:30
Coffee break
11:30
Demo 2: Interactive reduction of a Line Spectroscopy observation
R. Vavrek
12:00
Demo 3: Line fitting and flux extraction for mapping observations
K. Exter
12:30
Hands-on session
PACS Spectroscopy tutorials
| | |
| --- | --- |
| 13:30 - 14:30 | Lunch break |
| | |
| --- | --- |
| 16:00 - 16:30 | Coffee break |
| | | |
| --- | --- | --- |
| 16:30 | PACS photometry:mapping algorithms for extended emission | V.Doublier-Pritchard/B.Altieri |
| 17:00 | PACS photometry: ipipes tutorials / Hands-on session | B.Altieri |
Wednesday 26 June 2013
SPIRE
(@ Room B3)
Thursday 27 June 2013
HIFI
(@ Room B3)
09:00-10:00:
HIFI observing modes and associated data processing products
Anthony Marston
10:00-10:30:
Running HIFI pipelines - general and alternatives: Tutorial 1
Anthony Marston
10:30-11:00:
Q&A on HIFI Tutorial 1
11:00-11:30:
Coffee break
11:30-12:15
Remaining issues: Handling HIFI electrical and optical standing waves, tutorial 2
Elena Puga
12:15-13:00
Basic HIFI data analysis and data export, tutorial 3
Anthony Marston
13:00-13:30:
Q&A on HIFI Tutorials 2 and 3
| | |
| --- | --- |
| 14:30-16:00 | Hands-on session - Part I (HIFI), point source modes |
| 16:00-16:30 | Coffee break |
| 16:30-18:00 | Hands-on session - Part II (HIFI), maps and spectral scans |
Sample Datasets
These are some OBSIDs that you can use for your tests with the sysyem. Enjoy Herschel data! The PACS Range Spectroscopy ones will be used during the demos tomorrow.
| | | | |
| --- | --- | --- | --- |
| PACS Phot: | 1342215720 and 1342215721 | GX 339-4 | Point-like source |
| PACS Phot: | 1342185575 and 1342185576 | Sh104 | Extended source |
| PACS Phot: | 1342185553 and 1342185554 | RCW120 | Extended source - but requires more memory! |
| SPIRE Phot: | 1342183678 | RCW 120 | |
| HIFI Single Point: | 1342242856 | W28A | |
| PACS Line Spec: | 1342182002 | NGC 5315 | |
| PACS Range Spec: | 1342231295 | NGC 2440 | will be used in demo |
| PACS Range Spec: | 1342197795 | R Dor | will be used in demo |
| PACS Line Spec: | 1342191294 | NGC1365 | will be used in demo |
| SPIRE Spec: | 1342256105 | IRC+10216 | Nice spectrum |
| | 1342214831 | NGC6240 | will be used in demo |
| | 1342214832 | dark sky for NGC6240 | will be used in demo |
| | 1342203586 | SPIRE Photo map of NGC6240 | will be used in demo |
| | 1342265845 | SPIRE Spectral map of Orion Bar (HD37041) | will be used in hands-on |
| SPIRE PACS Parallel: | 1342186121, 1342186122 | Rosette Nebula | Nice image |
Additional workshop material
PACS Spectroscopy tutorials
PACS Photometry tutorials
SPIRE Photometry tutorials
MapMerged_TAR.py.txt: tutorial to merge 2 (or more) observations and calculate the absolute offset from cross-calibration with Planck.
(NOTE: you may need to remove the .txt from the filenames associated to the python scripts above so that these files can be recognized as python scripts by HIPE - the .txt suffix is added automatically by the twiki for security reasons)
Q&A
PACS Spectroscopy
Q1: I have a rather specific question. I am reducing unchopped line scans. I use oversample=2 and I get a warning for the specwaveRebinTask (not enough good values etc, try oversample=1). However when I look at the final result (end interactive L2) there doesn't seem to be a problem, for instance in the plotCubesStdev display there are only low exposure pixels at the edges. Is this something to worry about? I hope I managed to explain this clearly enough.... A1: Hi xxx, in many pipeline tasks you get warning messages (actually, many are just information, but the developers seem to like to scare people with WARNING!! comments ;-). so at first glance your message seems to be just a kind warning. if the end result looks ok then you don't need to worry. there is a task at the end of the pipeline that plots little yellow? squares on the bins that are "low exposure". If these are all at the end of the spectral range, you don't need to worry. In fact, yes, the task plotStdDev is the one that tells you which bins are low exposure. so it looks like you do not need to worry. but you can also change the wavelength grid up/over sample values and overplot the different end results to compare. More about up and over sampling is in the PDRG chapter…5 or 6 or 7, I forgot, and more about comparing spectra at the end of the pipeline is also in the PDRG (chap 5 or 6 or 7 also - a section that talks about flatfielding), or use the spectrum explorer. Q2: can I use data cubes that we get from the archive for spectroscopic AND photometric studies? A2: well, if you have enough continuum in your cube then you can of course use it for photometry. the question is "what is enough". The thing to remember is that the continuum you get at the end of the pipeline is subject to ± error. This error depends on the strength of your source with respect to the teelscope. The telescope spectrum is some 100 Jy or so, and so even 1% error is a ± error of 1 Jy in the continuum. In the calibration document that is on the pacs calibration and instrument wiki the errors for the end cubes are given. ± a few Jy you should expect will be the error in the continuum level.
http://herschel.esac.esa.int/twiki/pub/Public/PacsCalibrationWeb/PacsSpectroscopyPerformanceAndCalibration_v2_4.pdf
For full science quality you need to re-pipeline the data - take advantage of the latest calibrations as the HSA products don't run all the pipeline tasks. This is documented in chp 1 of the PDRG. You can get fluxes (Jy/spaxel) and wavelengths (microns). Though the fits files do have a rather awkward format. They can be hard to read directly into other software - we are working on this and if you have problems it is fastest to raise a helpdesk ticket. One last thing: for unchopped mode, the flux level of the continuum is
not
guaranteed to be correct. That mode was never intended for continuum studies.
PACS Photometry
Q1: A1: ...