Herschel Data Processing Workshop for Newcomers, 24-27 June 2013
TABLE OF CONTENTS
Participants
Venue
The workshop will be held at the
European Space Astronomy Centre (ESAC)
(Rooms B3/B5) situated near Villanueva de la Cañada, about 30kms North-West of Madrid.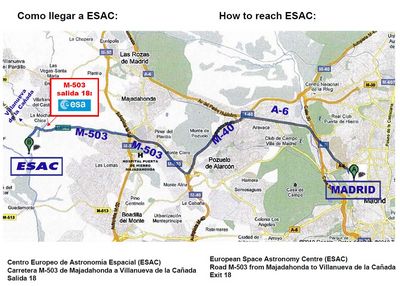 Maps and driving directions to ESAC from Madrid airport (Barajas) and Madrid city centre can be found
here
.
Transportation & Accommodation
A shuttle mini-bus will depart
from the entrance gate of Hotel NH Alberto Aguilera at 08:15h sharp every morning
to bring the workshop participants from Madrid to ESAC. The same shuttle service will also take the participants from ESAC to the hotel in Madrid at the end of the afternoon sessions from Monday to Wednesday. On Thursday afternoon taxis will be arranged to go from ESAC to the airport (no mini-bus service will be available). Participants need to make their own reservations directly with the hotel. Below is a list of recommended hotels in Madrid.

   Hotel NH Alberto Aguilera ***
   Calle Alberto Aguilera, 18
   28015 Madrid
   Tel: +34 91 4460900 
   Fax: +34 91 4460904 
   E-mail:  nhalbertoaguilera@nh-hotels.com

Useful Links
Download the latest HIPE User Release Candidate (HIPE 11.0.0 RC2)
What is HIPE?
HIPE stands for 'Herschel Interactive Processing Environment'. This is the software for browsing, analyzing and reprocessing Herschel data.
Which version of HIPE do I need?
The latest version of HIPE 11 (Release Candidate #2) will be the version of HIPE that will be used during the workshop. This version of HIPE (11.0.0 RC2) can be downloaded from the links below. Please install HIPE on your personal laptop (minimum requirements: RAM 4GB) in advance to the start of the workshop following the installation instructions given below for the different operating systems. Report any problems during the installation process through the
HSC Helpdesk
. Important note: You have to keep your internet connection on during the process as you download all the necessary components during the installation. Note that this is an advanced version of HIPE 11 which is still undergoing the final acceptance tests before it becomes an official user release, something that we anticipate will happen in July.
Release candidates (RCs) are made available for internal use only. Do not distribute this software!.
The available installers for Windows and Linux come with a 32 or a 64 bit virtual machine (VM). The available installer for Mac OS X does not come with a virtual machine but will use the one available at your system.
Download HIPE 11.0.0 RC2
HIPE Installation Instructions
Windows Instructions:

After downloading, double-click HIPE_11_0_0_RC2_INSTALLER.exe
Linux Instructions:

To download the linux installer you should do a right click and then "save link as"
After downloading open a terminal and, cd to the directory where you downloaded the installer.
At the prompt type: sh ./HIPE_11_0_0_RC2_INSTALLER.bin
Mac OS X Instructions:

After downloading, double-click HIPE_11_0_0_RC2_INSTALLER
Calibration contexts applicable for HIPE v11
In order to process data with HIPE v11 you may also need to download the corresponding calibration tree.
HIPE Users' Documentation
Please have a look at the on-line HIPE 11 documentation clicking on the link below.
Draft Agenda
Herschel Data Processing Workshop for Newcomers, 24-27 June 2013
Draft Agenda
Monday 24 June 2013
GENERAL ISSUES
(@ Room B3)
09:15-09:30:
Welcome, local set-up and start of webex session
09:30-09:45:
Welcome to Herschel Data Processing
S.Ott
09:45-10:00:
Welcome to the Herschel Science Archive
P.García-Lario
10:00-10:30:
An introduction to the HSA User Interface
E.Verdugo
10:30-11:00:
An introduction to HIPE
B.Merín
11:00-11:30:
Coffee break
11:30-11:45:
Q&A on HSA/HIPE general issues
11:45-12:15:
Data Handling in HIPE
E.Verdugo
12:15-13:00:
Quick inspection of Herschel data products
B.Merín
13:00-13:30:
Q&A on HSA/HIPE data handling and quick inspection of products
| | |
| --- | --- |
| 14:30-16:00 | Hands-on session - Part I (HSA/data access/data handling) |
| 16:00-16:30 | Coffee break |
| 16:30-18:00 | Hands-on session - Part II (HIPE general issues/quick inspection of products) |
Tuesday 25 June 2013
PACS
(@ Room B3)
09:00-09:30:
Quick introduction to PACS photometer products and data processing
09:30-10:00:
PACS photometry pipelines and calibration
10:00-10:20:
PACS point source photometry (aperture and PSF photometry, correlated noise and errors)
10:20-10:40:
PACS photometry:mapping algorithms for extended emission
10:40-11:00:
Q&A on PACS photometry
11:00-11:30:
Coffee break
11:30-11:50:
Introduction to PACS Spectrometer and observing modes
R.Vavrek
11:50-12:50:
Accessing and inspecting PACS products in HIPE
K. Exter
12:50-13:10:
Calibration and data processing pipeline overview
R.Vavrek
13:10-13:30:
Q&A on PACS Spectroscopy
14:30-15:00
Interactive reduction of a line spectroscopy observation
R.Vavrek
15:00-15:30
Line fitting and flux extraction demo
K.Exter
15:30-16:00
Hands-on session Part I (PACS Spectroscopy)
16:00-16:30
Coffee break
16:30-18:00
Hands-on session - (PACS Photometry)
Wednesday 26 June 2013
SPIRE
(@ Room B3)
09:00-09:30:
Quick introduction to SPIRE photometer products and data processing
09:30-11:00:
SPIRE Photometry Tutorials
11:00-11:30:
Coffee break
11:30-12:00:
Q&A on SPIRE Photometry
12:00-12:30:
Quick introduction to SPIRE FTS products and data processing
Ivan Valtchanov
12:30-13:10:
SPIRE Spectroscopy Tutorial
Ivan Valtchanov
13:10-13:30:
Q&A on SPIRE Spectroscopy
Ivan Valtchanov
14:30-16:00
Hands-on session - Part I (SPIRE Photometry)
16:00-16:30
Coffee break
16:30-18:00
Hands-on session - Part II (SPIRE Spectroscopy)
Ivan Valtchanov
Thursday 27 June 2013
HIFI
(@ Room B3)
09:00-10:00:
HIFI observing modes and associated data processing products
Anthony Marston
10:00-10:30:
Running HIFI pipelines - general and alternatives: Tutorial 1
Anthony Marston
10:30-11:00:
Q&A on HIFI Tutorial 1
11:00-11:30:
Coffee break
11:30-12:15
Remaining issues: Handling HIFI electrical and optical standing waves, tutorial 2
Elena Puga
12:15-13:00
Basic HIFI data analysis and data export, tutorial 3
Anthony Marston
13:00-13:30:
Q&A on HIFI Tutorials 2 and 3
| | |
| --- | --- |
| 14:30-16:00 | Hands-on session - Part I (HIFI), point source modes |
| 16:00-16:30 | Coffee break |
| 16:30-18:00 | Hands-on session - Part II (HIFI), maps and spectral scans |