Venue
The workshop will be held at the European Space Astronomy Centre (ESAC) (Rooms B3/B5) situated near Villanueva de la Cañada, about 30kms North-West of Madrid.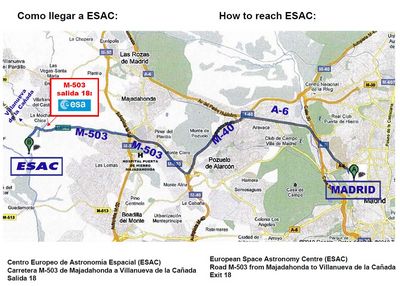 Maps and driving directions to ESAC from Madrid airport (Barajas) and Madrid city centre can be found here.
Transportation & Accommodation
A shuttle mini-bus will depart from the entrance gate of Hotel NH Alberto Aguilera at 08:15h sharp every morning to bring the workshop participants from Madrid to ESAC. The same shuttle service will also take the participants from ESAC to the hotel in Madrid at the end of the afternoon sessions from Monday to Wednesday. On Thursday afternoon taxis will be arranged to go from ESAC to the airport (no mini-bus service will be available). Participants need to make their own reservations directly with the hotel. Below is a list of recommended hotels in Madrid.

   Hotel NH Alberto Aguilera ***
   Calle Alberto Aguilera, 18
   28015 Madrid
   Tel: +34 91 4460900 
   Fax: +34 91 4460904 
   E-mail:  nhalbertoaguilera@nh-hotels.com

Useful Links